A powerful snowstorm has swept through the north-eastern US, breaking records in Massachusetts, Pennsylvania and New York and affecting 60 million people.
Parts of northern New York received three feet (90cm) of snowfall, and New York City received all of last year's snow total in just this one storm.
Weather officials warned of "dangerous, if not impossible travel conditions" as they struggled to plough icy roadways.
Hundreds of car crashes were reported, with at least two fatalities.
Warnings were in place on Thursday for 14 states, with officials begging residents not to leave home unless absolutely necessary.
The city of Binghamton, New York, received 45 inches (114cm) of snowfall, breaking its all-time record for the month of December.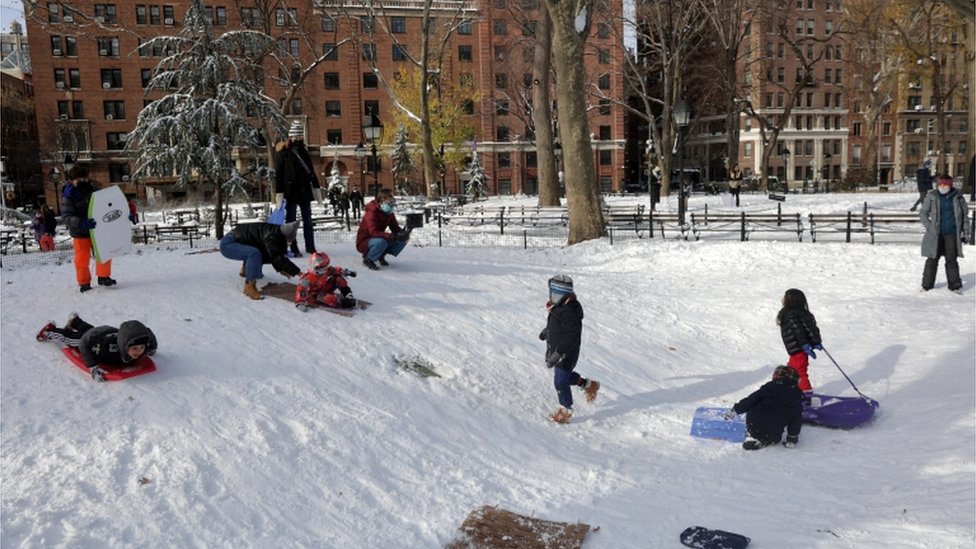 Parts of Pennsylvania reached 40 inches (102cm), according to the weather officials. The Williamsport Regional Airport broke its previous snowfall record, reporting 24.7 inches of snow.
"It's a historic storm for areas inland that got underneath the snow band," National Weather Service meteorologist Bob Oravec told Reuters.
"If you get underneath one of those bands, the snow rate can be tremendous – four or five inches per hour – and that's what occurred today," he said.

Six people were also hurt in a separate multi-car collision in New York City involving 27 vehicles.
Schools across the city moved to online learning on Thursday and outdoor dining was suspended.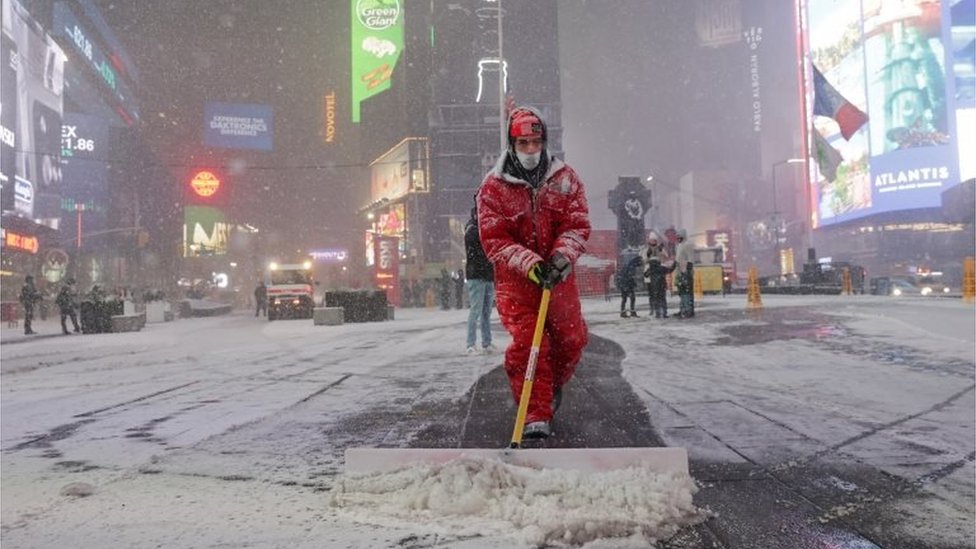 Boston also received more than nine inches of snow on Thursday, breaking the previous record for the date set in 2013.
According to the FlightAware website, more than 1,800 flights were cancelled, and another 4,000 delayed. Some rail services have also been suspended across the north-east.
A snow storm in a pandemic
Silvia Martelli, BBC News, Washington
For Nick Licata, an English teacher from New Jersey, snow storms are usually a cause for celebration as they come with days off work.
But this year "there is no celebration," says the 51-year-old. Because of Covid-19, he has been teaching remotely from his basement and will keep doing so during the storm.
Snow storms happen every year in the US – but like everything in 2020, the snow storm feels different this year.
"They usually close everything down and the traffic gets so bad… but this storm feels different," says Olga Zhukov, 30, a dog-walker and barista.
"The city was already slower paced because of Covid – sometimes it doesn't feel like New York City because the usual hustle and bustle is just not happening."

Officials say they are monitoring any potential impact of the storm on the delivery of the Pfizer-BioNTech vaccine to hospitals.
"We're following all of that," Health and Human Services Secretary Alex Azar said. "We have prepositioned Centers for Disease Control and Prevention people at each place receiving people. This is FedEx, this is UPS express shipping – they know how to deal with snow and bad weather, but we are on it and following it."
Meanwhile, parts of Japan are seeing more than seven feet of snow fall in the past 72 hours, as the country faces its own record-breaking blizzard.